Embark on a holistic circumnavigation that encompasses Britain, Ireland, Scotland, and Wales.

Discover the wild, rugged, seldom-seen islands of the west, as well as refined Edinburgh, historic Portsmouth and Lindisfarne, and dramatic Iona and Skellig Michael. Walk through Stone Age village ruins 5,000-years-old, examine the history of WWII up close, Zodiac cruise beneath the towering Cliffs of Moher, and hoist a pint or two with spirited natives in cozy pubs throughout the land. You'll explore ancient sites in moody landscapes to learn about culture and history in lands that have been continuously inhabited since Stone Age times.

Indulge your personal interests
How you spend your expedition time is vital to us. We want to bring you to and through the British & Irish Isles in the most engaging ways possible. Every day you can join naturalist or historian-guided hikes—choosing the individual whose interest and personality matches yours. Meet the lively characters who make up the contemporary scene in towns along the way. Or simply enjoy the open decks and glorious views from National Geographic Explorer.

Travel with some of the best and brightest
The encyclopedic knowledge of our historians adds insight, depth, and clarity to each geography. Our naturalists will describe the geology of these rich coastlines, sharing their knowledge daily. If improving your travel photos is a passion, than we recommend you spend time with the National Geographic photographer and the National Geographic certified photo instructor aboard ship and on walks ashore.
Main Deck with one or two Portholes #301-308
Main Deck with Window #317-320, 335-336
Main Deck with Window #313-316, 321-328, 337-340, 342, 344, 346, 348, 350 Triples: Main Deck with WIndow #341, 343
Upper and Veranda Decks with Window #103-104, 107-108, 201-202, 204-207, 210, 212, 217, 226, 228
Solo A Main Deck with Window #309-312, 329-334
Upper Deck with Balcony #209, 211, 214, 216, 218, 220-222, 224
Solo B Upper and Veranda Decks with Window #105-106, 203, 208
Veranda Deck–Suite #101-102; Upper Deck-Suite with Balcony #213 Triples: #101-102
Upper Deck–Suite with Balcony #215, 219, 230 All cabins are available as triples.
National Geographic Explorer
Vessel Type: Luxury Expedition
Length: 108 meters
Passenger Capacity: 148 (single & twin cabins)
Built / Refurbished: 1982 / 2008
National Geographic Explorer is a state-of-the-art expedition ship. It is a fully stabilized, ice-class vessel, enabling it to navigate polar passages while providing exceptional comfort. It carries kayaks and a fleet of Zodiac landing craft. An Undersea Specialist operates a remotely operated vehicle (ROV) and sophisticated video equipment, extending access to the underwater world.
Public areas: Bistro Bar; Chart Room; Restaurant; Global Gallery; Library, Lounge with full service bar and state-of-the-art facilities for films, slideshows and presentations; Mud Room with lockers for expedition gear, and Observation Lounge. Our "Open Bridge" provides guests an opportunity to meet our Officers and Captain and learn about navigation.
Meals: Served in single seatings with unassigned tables for an informal atmosphere and easy mingling. Menu is international with local flair.
Cabins: All cabins face outside with windows or portholes, private facilities and climate controls.
Expedition Equipment: Zodiac landing craft, kayaks, Remotely Operated Vehicle (ROV), hydrophone, SplashCam, underwater video camera, Crow's Nest remote controlled camera, video microscope, snorkeling gear.
Special Features: A full-time doctor, Undersea Specialist, LEX Photo Specialist and Video Chronicler, Internet Cafe and laundry.
Wellness: The vessel is staffed by two Wellness Specialists and features a glass enclosed Fitness Center, outdoor stretching area, two LEXspa treatment rooms and Sauna.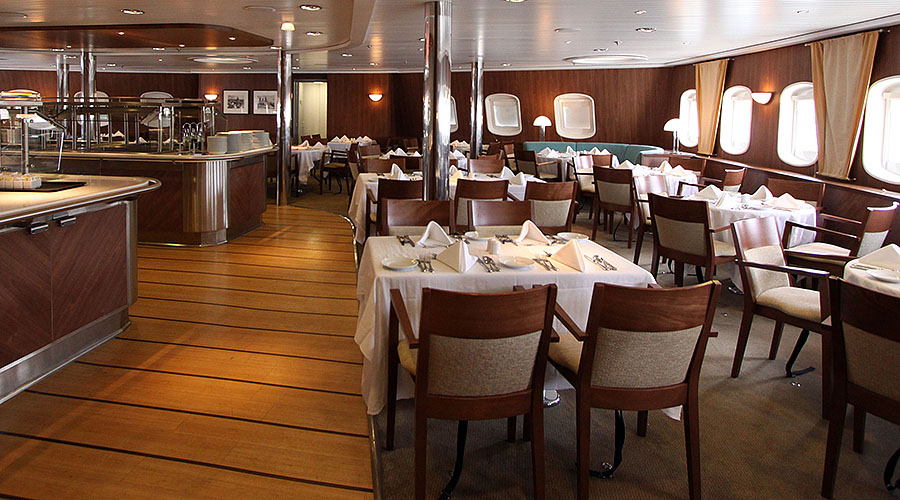 Free Bar and Crew Tips Included on Voyages aboard National Geographic Explorer
Expeditions aboard National Geographic Explorer - Arctic, Antarctica, South America West Coast, British and Irish Isles and Canada.
Select Voyages 2017 - 2018.
Voyage Rates: AU$6 240 - AU$62 050
Special Offer: FREE BAR AND CREW TIPS INCLUDED
Beginning in April 2017, we will cover your bar tab and all tips for the crew on all National Geographic Explorer voyages. Promotion subject to availability, contact us for further details.