Steeped in Shackleton and whaling lore, covered mostly in glaciers, South Georgia explodes with life: king, gentoo, and macaroni penguins, enormous elephant seals and a thriving fur seal population. On South Georgia you can observe one of the world's great wildlife spectacles: tens of thousands of stately king penguins on a single beach. See the human face of the region in the Falklands, reminiscent of Great Britain, with grazing sheep, tea and crumpets. And in this privileged place, the albatross reveal the beauty of their mysterious lives.

More time for incredible wildlife experiences
This expedition maximizes your time experiences the wildlife spectacle of South Georgia's incredible coastline. Discover penguin colonies that sprawl to the horizon. Wade through tussock grass along a hillside dotted with nesting albatross. Share a beach with 8,000-pound battling elephant seals.

Human element of the sub-Antarctic
Meet the welcoming islanders of the Falklands and learn about their unique way of life on this remote region. Explore Stanley, the island's capital, with the quaint feel of a Scottish island. It was once a port for repairing ships after damaging Drake Passage voyages, or refueling steamships going around Cape Horn. It became something of a forgotten outpost once the Panama Canal opened and its residents became largely reliant on sheep farming. Today, fine Falkland wool is still regarded as among the best in the world. Meet some of the 2,500 residents, you'll find most of them travel abroad for their educations and return with new skills to further develop the islands to their true potential in a changing world.

Walk in Shackleton's footsteps
Ernest Shackleton's famed Endurance expedition was beset by tragedy when he lost his ship in the Antarctic ice in 1914. Through extraordinary leadership and dogged, relentless effort, none of his men were lost; all were saved in 1916. We'll visit the site where he landed after sailing across the Drake Passage in a lifeboat, as well as the now ruined whaling station he hiked to for help.
Experience Buenos Aires, too
Discover the highlights and some hidden gems of Buenos Aires on a carefully curated day of exploring the city. See the Beaux-Arts palaces and the famous balcony forever associated with Eva Perón. Enjoy plenty of exclusive events before a group charter flight to Ushuaia to embark National Geographic Explorer.

Every day is exciting and engaging
You'll get out on adventures every day we're in South Georgia and the Falklands. The Falklands are ideal for walking adventures, with some hikes ending in a "cream tea" served in the parlor of a welcoming farmhouse. In all locations, your expedition leader will enable daily Zodiac cruises and kayak expeditions too, sometimes twice a day—creating the opportunity for you to experience the wonders with all your senses, at water-level or eye-level. Days at sea offer engaging presentations from staff on history, photography, and more—or opt to relax, too. Enjoy the view from behind Explorer's panoramic glass windows. Or visit the fitness center with its generous views of the ice vistas, or ease into the sauna or a massage in the wellness center.
Check in to the excellent Sofitel Buenos Aires (or similiar) before having a guided overview of the city, seeing its Beaux Arts palaces and the famous balcony forever associated with Eva Peron. (L)
This morning's charter flight will bring us over Patagonia before landing in Ushuaia, the southernmost city in the world. If the weather is fine, you'll have a chance to view the spectacular mountains rising out of the Beagle Channel as you enjoy lunch on a catamaran cruise. Then, you'll embark the expedition ship and set sail, (B,L,D)
Settle into shipboard life, listening to informal discussions from our naturalist staff to prepare us for the wildness ahead in the Falklands. Spend time on deck and on the bridge, scanning for seabirds, notably the albatross. (B,L,D)
Each Falkland Island is a variation on the theme of topographical beauty with white-sand beaches, vaulting cliffs, windswept moors and the sunlit yellows and sage greens of waving tussock grass. The Falklands boast thousands of irresistible gentoo, rockhopper and Magellanic penguins, as well as herds of fur and elephant seals. Our visit to Port Stanley offers a chance to meet the hospitable locals, hoist a few at the famous Upland Goose pub and stroll around this remote Victorian town. (B,L,D)
During our days at sea, we learn about the fascinating history of Antarctic exploration, as well as the flora, fauna and geology of South Georgia. A lookout is kept to identify the seabirds that follow us: wandering albatross, prions and black-browed albatross. (B,L,D)
Explore the spectacular coastline of South Georgia Island. In keeping with the nature of an expedition, our schedule is flexible with opportunities for walking, hiking, kayaking and Zodiac excursions. Leisurely circumnavigating the island, we plan to make stops every day including Grytviken, the final resting place of Shackleton, and Stromness Bay where Shackleton, Tom Crean and Frank Worsley finally reached aid at a whaling station. And, we visit a vast colony of 200,000 king penguins! (B,L,D
With whales beneath and birds above, head out on deck or up to the Bridge to observe expert navigation at work as our skilled Captain and officers sail these waters. There'll also be time to relax and enjoy a massage in the wellness center, work out in the gym, and browse in the library. (B,L,D)
Our journey across the South Atlantic Ocean takes us once more to the island archipelago that teems with nature and wildlife. Take a last walk along the beautiful white-sand beaches, meander through tussock grass or sit atop a cliff and ponder the views. (B,L,D)
One last chance to send emails home saying "Don't want this to end." (B,L,D)
Disembark in Ushuaia with time to explore before flying to Buenos Aires by private charter if required. (B,L)
All day-by-day breakdowns are a sampling of the places we intend to visit, conditions permitting.
Main Deck with one or two Portholes #301-308
Main Deck with Window #317-320, 335-336
Main Deck with Window #313-316, 321-328, 337-340, 342, 344, 346, 348, 350 Triples: Main Deck with WIndow #341, 343
Upper and Veranda Decks with Window #103-104, 107-108, 201-202, 204-207, 210, 212, 217, 226, 228
Solo A Main Deck with Window #309-312, 329-334
Solo B Upper and Veranda Decks with Window #105-106, 203, 208
Upper Deck with Balcony #209, 211, 214, 216, 218, 220-222, 224
Veranda Deck–Suite #101-102; Upper Deck-Suite with Balcony #213 Triples: #101-102
Upper Deck–Suite with Balcony #215, 219, 230 All cabins are available as triples.
National Geographic Explorer
Vessel Type: Luxury Expedition
Length: 108 meters
Passenger Capacity: 148 (single & twin cabins)
Built / Refurbished: 1982 / 2008
National Geographic Explorer is a state-of-the-art expedition ship. It is a fully stabilized, ice-class vessel, enabling it to navigate polar passages while providing exceptional comfort. It carries kayaks and a fleet of Zodiac landing craft. An Undersea Specialist operates a remotely operated vehicle (ROV) and sophisticated video equipment, extending access to the underwater world.
Public areas: Bistro Bar; Chart Room; Restaurant; Global Gallery; Library, Lounge with full service bar and state-of-the-art facilities for films, slideshows and presentations; Mud Room with lockers for expedition gear, and Observation Lounge. Our "Open Bridge" provides guests an opportunity to meet our Officers and Captain and learn about navigation.
Meals: Served in single seatings with unassigned tables for an informal atmosphere and easy mingling. Menu is international with local flair.
Cabins: All cabins face outside with windows or portholes, private facilities and climate controls.
Expedition Equipment: Zodiac landing craft, kayaks, Remotely Operated Vehicle (ROV), hydrophone, SplashCam, underwater video camera, Crow's Nest remote controlled camera, video microscope, snorkeling gear.
Special Features: A full-time doctor, Undersea Specialist, LEX Photo Specialist and Video Chronicler, Internet Cafe and laundry.
Wellness: The vessel is staffed by two Wellness Specialists and features a glass enclosed Fitness Center, outdoor stretching area, two LEXspa treatment rooms and Sauna.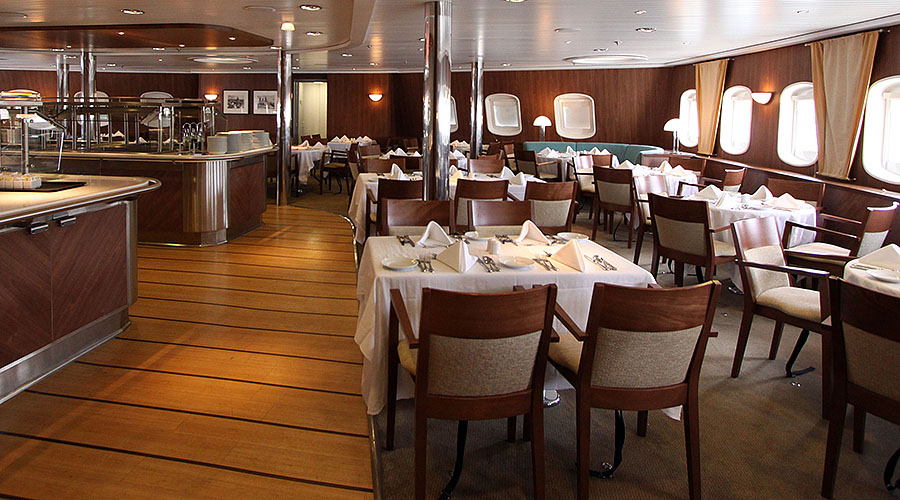 Free Bar and Crew Tips Included on Voyages aboard National Geographic Explorer
Expeditions aboard National Geographic Explorer - Arctic, Antarctica, South America West Coast, British and Irish Isles and Canada.
Select Voyages 2017 - 2018.
Voyage Rates: AU$6 240 - AU$62 050
Special Offer: FREE BAR AND CREW TIPS INCLUDED
Beginning in April 2017, we will cover your bar tab and all tips for the crew on all National Geographic Explorer voyages. Promotion subject to availability, contact us for further details.